kid red bio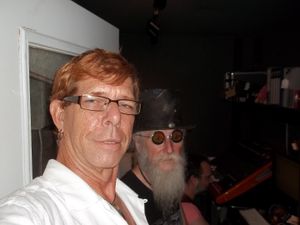 It's usually the voice that gets their attention first. Something from the Louis Armstrong/Tom Waits school of vocals with its own original shadings and quirks. Then you notice the intensity, the way the songs seem to consume him as he sings and plays.
    kid red is a New Orleans singer and guitarist. Largely a nomad since Katrina, he currently resides in Sarasota, FL. His music combines the flavors of blues, country, jazz and swing with Caribbean and American Roots rhythm elements.
     His music career started in the early seventies when he began playing guitar and quickly found himself in a series of garage bands doing songs from the Who, Santana, The Stones and a host of other 60's mainstays.
     By the mid seventies he had discovered bluegrass and country music and formed his first working band with some friends in Slidell, LA, playing acoustic and electric guitar and dobro.  Their repertoire ran the gamut from Hank Williams Sr. and Doc Watson to music by Austin artists who were part of the emerging outlaw country scene. That band, called Swampdust, played around New Orleans including Tipitinas and extensively at honkytonks north of the Lake Pontchartrain.
     Swampdust broke up in 1981 and kid red, previously Larry Chiri, struck out on his own, fronting the kid red blues band, flavoring psychedelic blues with the punk rock influence of the Sex Pistols, the Clash and the Ramones. After two years on his own, kid red moved to Houston where he promptly got married and his music career went on hiatus.
     Ten years later, as the marriage ground to halt he returned to music with a vengeance. By then he had been making the rounds of the Houston blues scene, developing a unique whisky and cigarettes vocal style that has been described as "Tom Waits with an overhead cam and glass packs." After playing the Houston scene till the late 90's, including such noted venues as Rudyard's, Dan-Electro's, the Last Concert Cafe and the Blue Iguana, he returned to New Orleans.
     During this time kid red was slowly recording an eclectic combination of electric blues and various acoustic tracks that were released on a CD called Roots and Larry in 1996.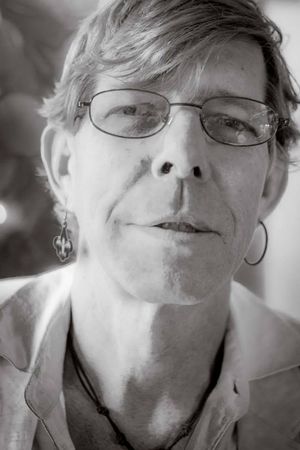 He was  a regular at a number of New Orleans clubs including Checkpoint Charlie, Vic's Kangaroo Cafe, Silky O'Sullivan's, Tricou House on Bourbon Street and Patouts, where he often appeared with blues legend Ironin' Board Sam. In April of 2000 he made his debut at the New Orleans Jazz and Heritage Festival with Ironin' Board himself and the Hot Iron Revue to an enthusiastic response.
     Around 2000 he began to supplement his regular Bourbon St. gig with a variety of projects on the newly emerging Frenchmen St. strip in the Faubourg Marigny. Cuban congista Pupi Menes brought a strong Caribbean rhythmic element to kid red's music and  being in New Orleans just naturally made it a little jazzier. In 2004 he recorded the Lenny McDaniel penned song Brand New Mambo featuring McDaniel on piano and George Porter, Jr on bass, but before the song could be finished Katrina intervened.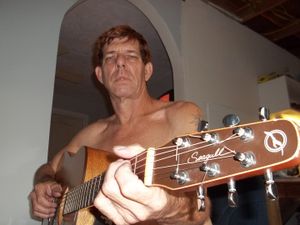 After Katrina kid red went into Bong Island Sound studio in Houston with engineer/bassist Roger Tausz and came out with his second CD, Virtually Live at Checkpoint Charlie. The album was built from tracks recorded live at the notorious NOLA dive bar in 2004. The album proved a good showcase of kid red's Caribbean/blues fusion style. Keyboardist Wayne Lohr and kid red laid wicked, soulful blues over spicy reggae and salsa grooves provided by Menes and drummer Steve Reichlen. In 2010 he appeared in the HBO Series Treme.
     As kid red continues to wander up and down the Gulf Coast he has begun pre-production on a new CD being produced by New Orleans all around musical genius Beth Patterson. Titled Brand New Mambo, it is slated for release in mid to late 2017. He is also starting a Mardi Gras Krewe in Sarasota, FL., The Krewe du Nolasota, in hopes of spreading a little New Orleans spirit around his current home town.