kid red's various musical presentations
solo
mostly acoustic-a variety of folk, country, blues, latin, originals and jazz standards featuring songs by Louis Armstrong and Tom Waits.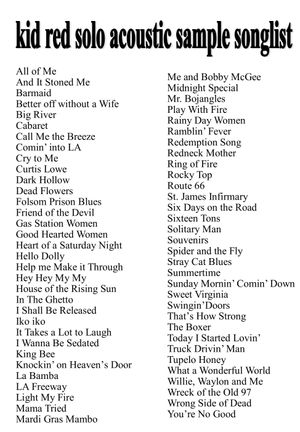 Duo
Similar to the solo show but enhanced with either bass guitar or congas/hand percussion.
Trios
Kombo Rojo
Kombo Rojo is the solo acoustic show adapted to a trio with bass and congas and a more Caribbean flavor.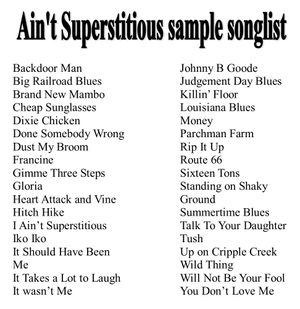 Ain't Superstitious
Ain't Superstitious is a blues power trio playing a variety of blues styles from psychedelic to traditional and featuring a tribute to blues great Howlin' Wolf. This group is also available as a four piece with a female singer/sax player.
Rock Mango
The kid red dive bar rock and roll band. Heavy on the Stones and Ramones, high energy blues rock mixed with old school punk and reggae from a veteran of the New Orleans Bourbon St. scene.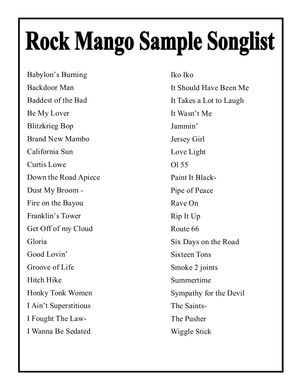 Four and more
kid red and 3R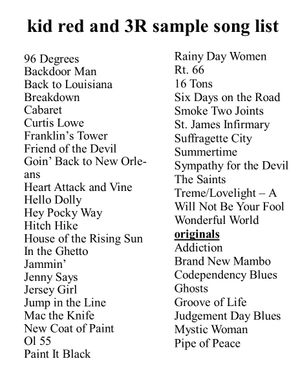 this is kid red's main group, playing his originals and a broad cross-section of different styles and genres. The music is mostly American roots based with strong New Orleans and Caribbean influences.
kid red and the Pontchartrain All-Stars
the Pontchartrain All-Stars is kid red's celebration of New Orleans music and culture. Usually 7-10 pieces and in Mardi Gras regalia and handing out beads recycled from real New Orleans parades.